Date
Event Date
06/21/2019 - 18:00
-
06/22/2019 - 17:00
Europe/Berlin
#play14 is an international gathering of like-minded people who share the common idea that playing is the best way to learn and understand !
For two and a half days, people with many different profiles and experiences are invited to share serious games & fun activities, experiences & tips, knowledge & insights, laughts & smiles. Everyone is welcome to join.
A proposed activity could be a lot of things
A serious game like the Ball Point Game
Facilitation techniques
Sketching or doodling together
A question or a problem for which you want help
Dancing together
Singing together
Inventing a new game together
A 1 on 1 coaching session
Improv theater
Yoga, Tai Chi or mindfulness
A soul searching, deep-dive introspection
It could be pretty much anything as long as it respects our Manifesto.
Join us in order to develop your facilitation skills, increase your ability to accompany change in your organization, foster your creativity and improve your capacity to innovate.
#play14 is an unconference, where all attendees are also contributors. All you need to do is show up, and you will be given the opportunity to propose some games, or play the games proposed by the others.
In 2019 we are especially happy to be hosted by Dark Horse GmbH. Find out more about Dark Horse here: https://www.thedarkhorse.de/. And please make sure you follow them on twitter: https://twitter.com/darkhorseberlin.
Not sure yet? Here are some great impressions from our #play14 family in London: http://bit.ly/play14LondonHighlights.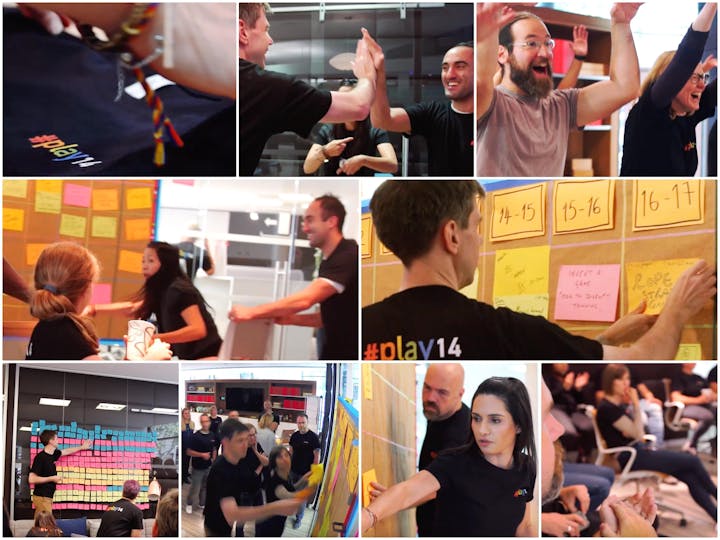 Be part of #play14 Berlin! We are looking forward to welcoming you!

Location
Address
Dark Horse GmbH
Glogauer Straße 6
Berlin 10999
Germany